Buy Web Hosting & Apply Free Hosting Trial
Yuan Jhen provides a free web hosting trial, meaning users don't need to pay any fees during the trial period. Web hosting will be activated immediately once completing apply by SMS.
View the web hosting plans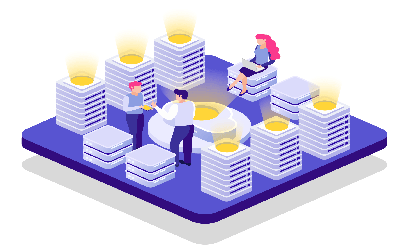 How to buy web hosting?
Step 1. Choose the web hosting plan for free trial on Yuan Jhen's official website, and complete the web hosting application process.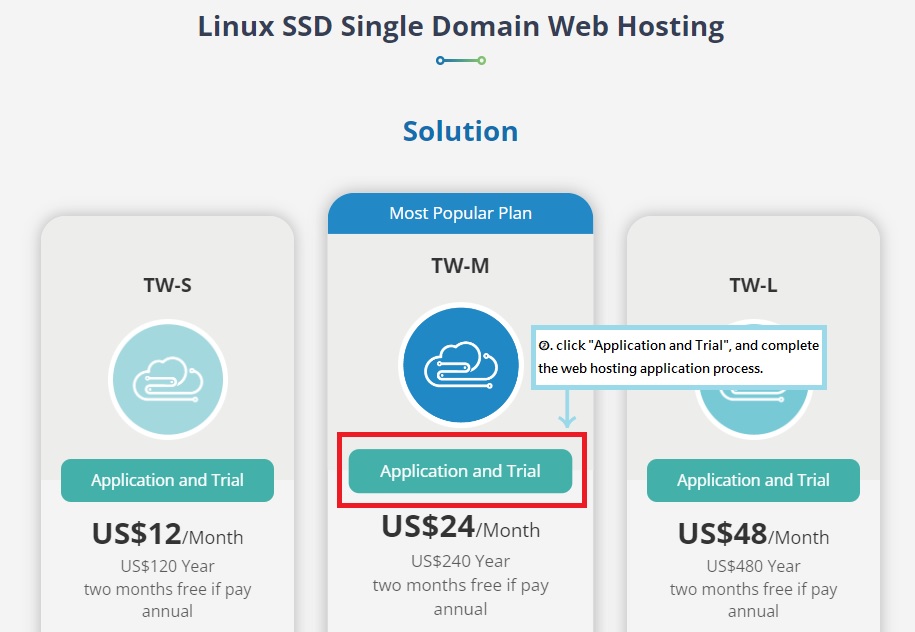 Step 2. Confirm the web hosting application information and fill out customer details, then click "Checkout" to complete the application of the web hosting process.
If you are a new customer for the first time purchasing our service, you can also sign up on this page.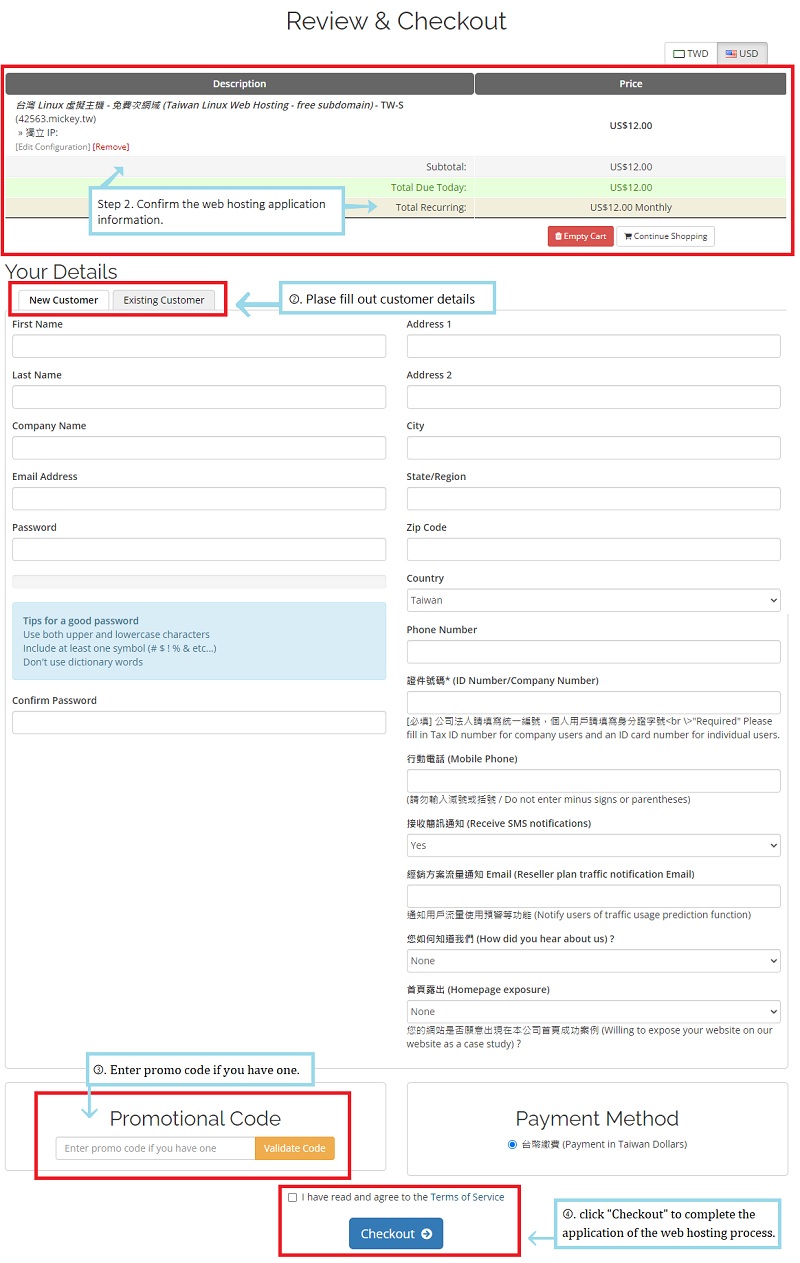 How to apply for a free web hosting trial?
Step 1. After completing the purchase web hosting procedure, this page will pop up order confirmation (as pictured below). Please click "Click here to use the SMS to activate immediately". If you have closed this page accidentally, you can also check your Email that was registered when you purchased the plan to view the Order Confirmation mail and have attached the link for apply free trial web hosting.
If you also choose "Free website transfer service" when applying a web hosting, you will not be able to use a 15-day free trial of web hosting. To cancel the free website transfer service, please contact us at +886 2 4499-343#1.
▼ Order Confirmation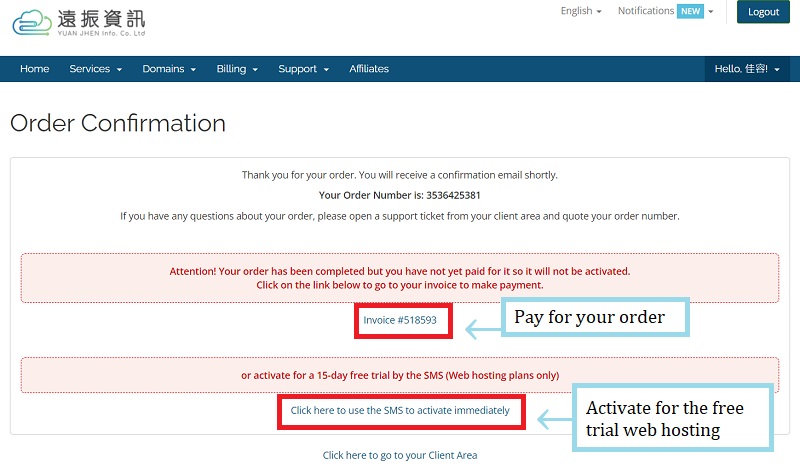 ▼ Confirmation Email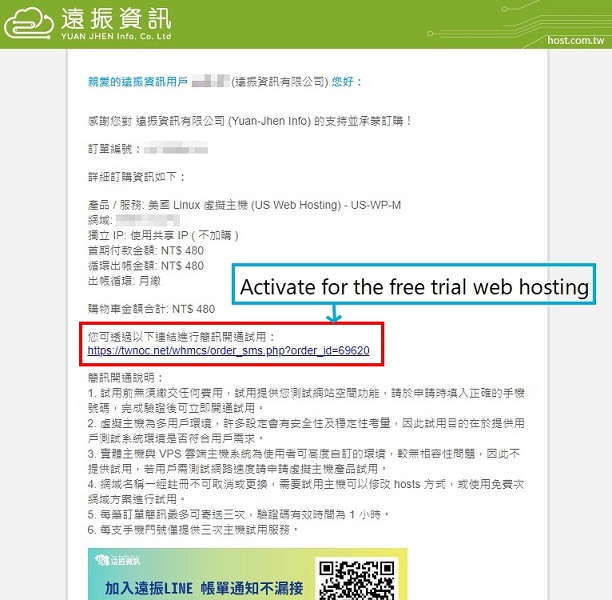 Step 2. Insert your phone number to get the verification code (international dialling, please starts with "+" country code). Each phone number can be applied for a free web hosting trial 3 times max.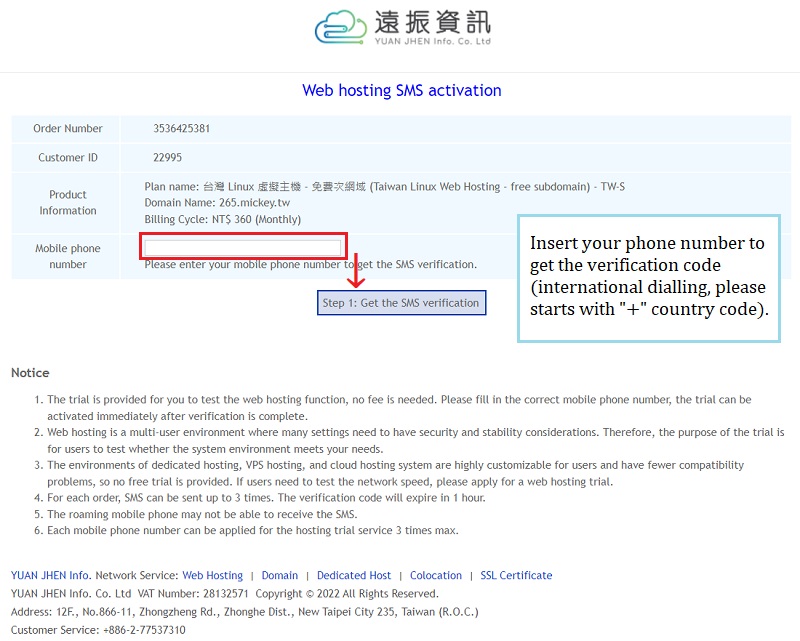 Step 3. You will see the following message box; please click "OK". Text message valid for 60 minutes.

Step 4. Enter the verification code like the photo below to activate hosting.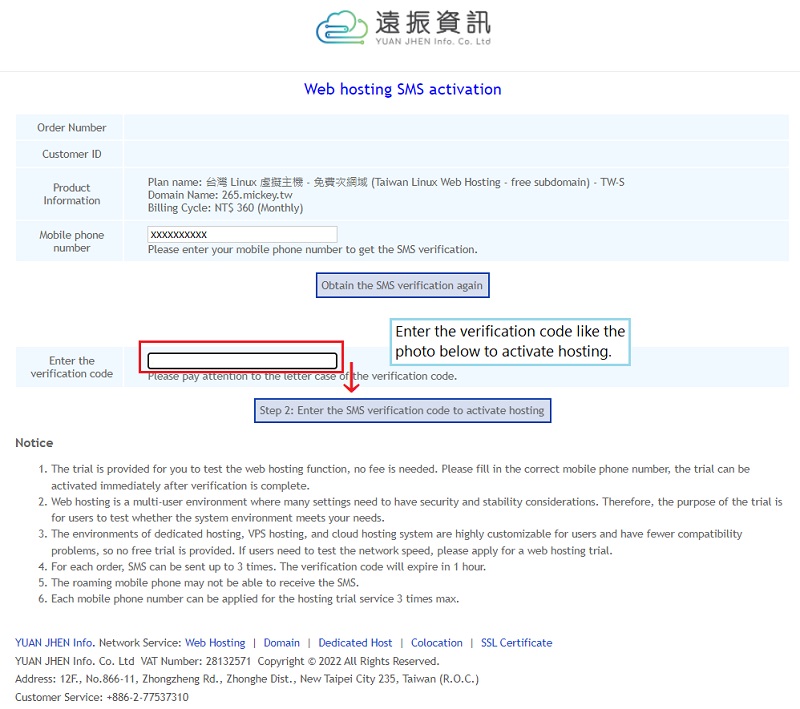 Step 5. A 15-day free web hosting trial starts immediately after the verification ultimately, go to your Email to collect the activation mail.
You will also receive the payment of your order; you can pay during the trial period, and your web hosting period will plus the remaining trial days to your first-month billing cycle time. Otherwise, your hosting plan will be inactive after 15 days trial.

Start to order the web hosting plan!
If you are looking for reliable and affordable web hosting, view the detailed specifications and functions through the web hosting page, we offer a wide range of features that will make setting up and managing your website easy. If you have any questions, please call +886 2 4499-343 or contact us through online contact form.
Taiwan Web Hosting
US Web Hosting
Asia Web Hosting
WordPress Hosting